Owner: Alex
IG: @osidepunker
BIO:Alex is punker who grew up in Oceanside CA. He has been in the military flight simulation industry for over 20 years and has an extensive technical background. Since he was very young he has always been fascinated with exploring off the beaten path. His first off road vehicle was an '88 Cherokee Chief and he drove the piss out of that thing. In the 90's he moved from CA and spent some years in the Seattle/Tacoma area, Portland, Arkansas, and then finally he was able to relocate back to Southern CA in 2011. When he moved back he quickly remembered that the Southwest corner of the US offers vast opportunities for backcountry exploration. He decided that he needed a proper vehicle for traversing Planet Earth swiftly and in comfort so he could experience as much as he could in the short life we humans have been granted. So he built…
"The Truck"
2013 Tundra DC RW 5.7L 4x4
The entire suspension has been modified for ultra-fast desert travel as well as providing for increased articulation on technical terrain. The system was built with extreme durability and reliability in mind. It was tuned to provide a strict balance between high speed performance, technical capability, large load hauling capacity, and comfortable street ride. All suspension fabrication and installation was performed by DMZ Fab and Race Prep in Norco CA; utilizing components from Total Chaos Fabrication, Fox Racing Shocks, and Deaver Spring Inc.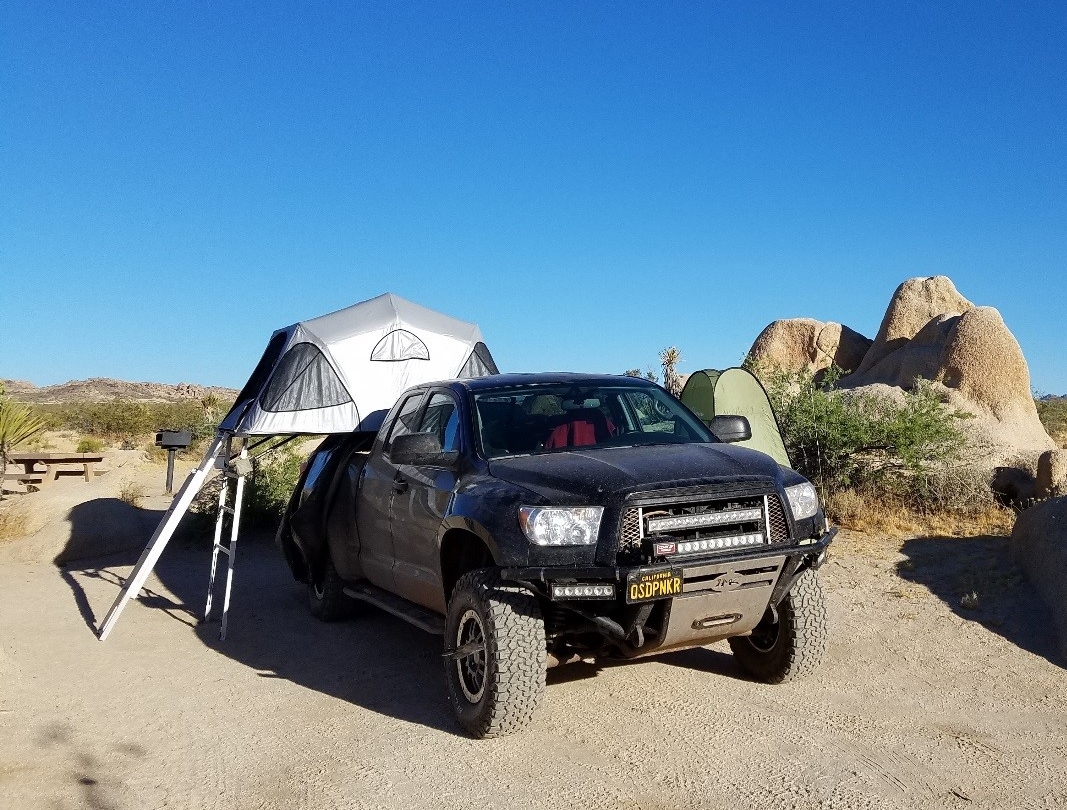 The front suspension is a Total Chaos long travel suspension system with bypass hoops, spindle and cam tab gussets, and limit straps. Fox Racing Series 2.5 coilovers and 2.5 bypasses control dampening. The system is fully cycled and strapped at 16" clean suspension travel.
The rear suspension system is fully cycled and strapped at 17" usable suspension travel. The rear axle has been fully converted to a spring under axle setup with custom spring plates and shock tabs. The leaf spring are custom 3" wide progressive packs from Deaver. They are reverse eye and double military wrapped. DMZ fabricated new front leaf hangers with bash plates to accommodate the wider leafs. A full DOM bed cage with dimple plate and secondary supports was fabricated by DMZ to provide shock mounting and help support the truck frame. Alex designed a custom one-off electric articulating bed rack for his roof top tent and awning; DMZ performed the fabrication. The articulating rack allows access to the gear in the bed while keeping the weight of the tent low for good handling. The rear half of the frame was also fully boxed by DMZ up to the re-enforced center section under the cab. Fox Racing Series 2.5 16" bypasses and 2.5 3" hydraulic bump stops control dampening.
TRD Rock Warrior Wheels with 35x12.50x17 BFG KO2 connect The Truck to the dirt. Two full size spares mounted in the bed provide confidence.
The front bumper was fabricated by DMZ Fab and Race Prep and is a fully welded DOM tube prerunner-style winch bumper. The frame horns are double walled with 1" shackle tabs. A Comeup Seal Gen2 12.5rs winch was mounted. This is a 12.5k winch with synthetic line and a Factor 55 Prolink XXL accepts a larger 1" stainless steel shackle. Alex also packs misc recovery and winch gear from ARB. A DMZ custom front skid is made of 1/4" aluminum plate and the rest of the skids were manufactured by Bud Built and are also 1/4" aluminum plate.
The rear bumper is a fully welded DOM tube high clearance bumper fabricated by DMZ Fab and Race Prep. The frame horns were extended with 3/16" box ends and feature 1" shackles tabs. The center section is double walled DOM tube and secondary supports are gusseted to the frame.
White Knuckle sliders with .188 DOM outer rail provide side protection.
Sleeping quarters consist of a James Baroud Horizon Vision roof top tent. An ARB 82 quart fridge keeps the beer cold. Alex has designed a custom on demand water system with up to 20 gallons of water storage. A propane hot water heater can be connected for hot showers on the trail. An IBS-DBS dual battery controller separates a pair of house batteries from the main battery. Total system storage is 210 Ah. AC is routed throughout The Truck and is supplied by a Xantrex PROwatt SW 1000 inverter. A NOCO Genius Gen1 battery charger keeps the Odyssey batteries maintained and provides light shore power duties. All electrical work was done by Alex and features marine and/or military grade components. The system is fully fused and the winch is isolated when not in use. There is a full complement of auxiliary lighting, 25k lumens of forward lighting and rear clear and amber dust lights. Lighting is switched by an SPOD unit.
 
The truck has multiple systems of on onboard communication including a fully unlocked Kenwood TM-V71A dual band/dual tuner ham radio, Kenwood TH‑K20A VHF handheld radio, two way Garmin Inreach Explorer+ satellite communicator, an emergency ACR ResQLink Plus Personal Locator Beacon and a back up cell phone. Other miscellaneous equipment consists of a dedicated Samsung 10" tablet with Backcountry Pro Navigation, H3R Performance Halogen fire extinguishers, two pairs of TRED Pros traction boards, HiLift 60" jack, full size shovel and axe, full set of tools, and a huge set of balls.