Role Call:
Kevin @__KevinK__, Lisa and two dogs - DC 4x4 on 37s - Dinner Friday, something with cheese and bacon
Alex @Osidepunker - DC 4x4 long travel on 35s - breakfast Saturday and Sunday
Zack - CM 4x4 on 35s?
Uncle Jimmy and wife - DC 4x4 on 35s I think - breakfast Monday
Spenny @spennsir - 4 Runner 4x4 with magic buttons and no front sway bar now - dinner Saturday
Scooby - 329% committed even though he says he's not gonna make it - CM 4x4 on 35s
This was one of the most fun trips this year. We hit some really varied terrain over the course of 4 days - everything from high speed whoops to rutted hillclimbs, fast forest roads to rock gardens, and off-camber rocky descents to mud puddles.
We started Friday afternoon out in Sycamore Creek for some high speed wash runs and a little bit of hill climbing on and near Widowmaker. It's a fun little area with some tight clearance on pretty much all of the hill trails.
Sycamore Creek:
Oside Punker believes he can fly , Gravity says fuck off mate
Haha! Just kidding Spenny! That trail doesn't go anywhere, we just wanted to see you try it.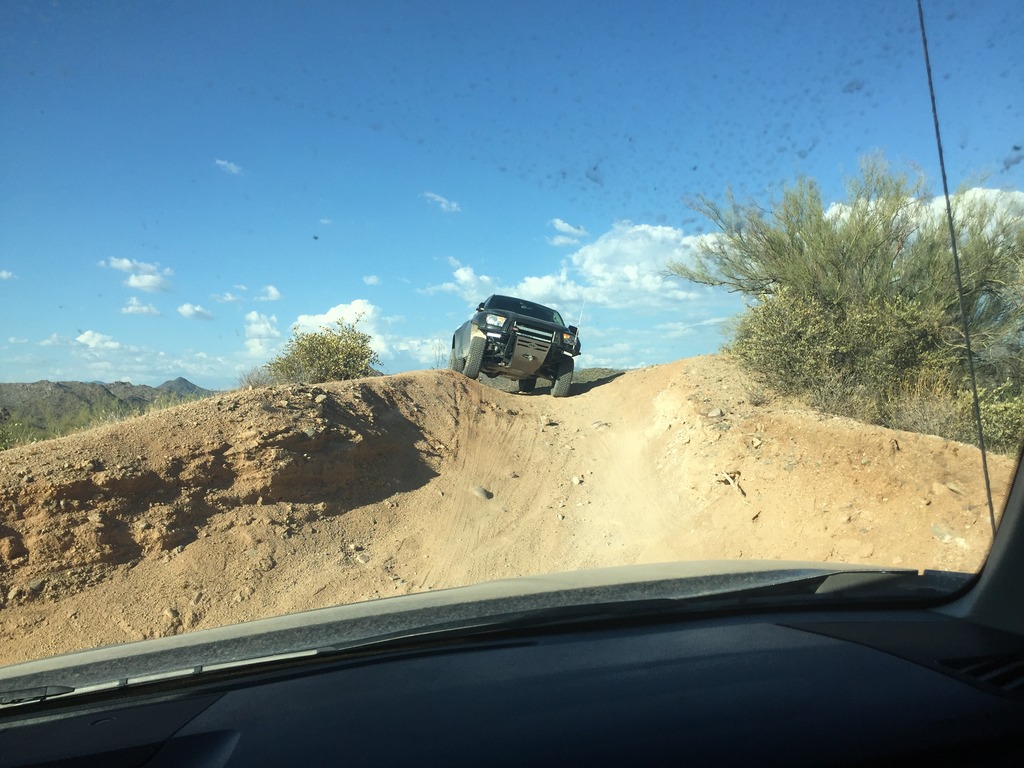 Stay right there Oside, I got your good side for this pic
Friday night we camped north of Lake Pleasant. My brilliant navigational skills had us driving on a mule trail following donkeys in the middle of the night through a thicket looking for camp. We eventually found a good spot to set up for Oside Punker, Spenny, and Lisa and I. Horny Toads, Whip Tail Scorpions, Coyotes, Jack Asses (mules too :) ) and Flip Flops don't mix.... I think we stayed up till about 1am trying to get drunk enough to sleep out there with the desert actively trying to kill some of us (Spenny slept in a hammock and we made sure to remind him how exposed he was going to be all night). Sunrise the next day made it all worthwhile though. The desert is crazy pretty right now with all the recent rain. Wild horses, mules and cows were all wandering around in the lush green valley below us.
No pictures because I suck and we were in a hurry
Saturday morning we got an early start in an attempt to get on the trail to Crown King before 24 FJs hit the same trail at 7:30 - we almost made it. Zack brought us all breakfast and while we were munching down, the first couple FJs passed by on the trail. Everyone scrambled and we just jumped into the middle of their caravan hoping to blend in and pass them at their first regrouping spot. We passed them and started hitting the obstacles on the way up to Crown King. Eventually they passed us on one obstacle, and we passed them on the next. We played leapfrog all the way to CK until near the end when we pissed in their Cheerios by hauling ass to the bar. Quote of the day: Zack, "I moved your truck and with the 37s it feels all balobbilly" I'm gonna have stickers made - balobbilly is my new favorite word.
Crown King Run:
The Original Overland Rigs - yep, people still ride horses to the bar in Crown King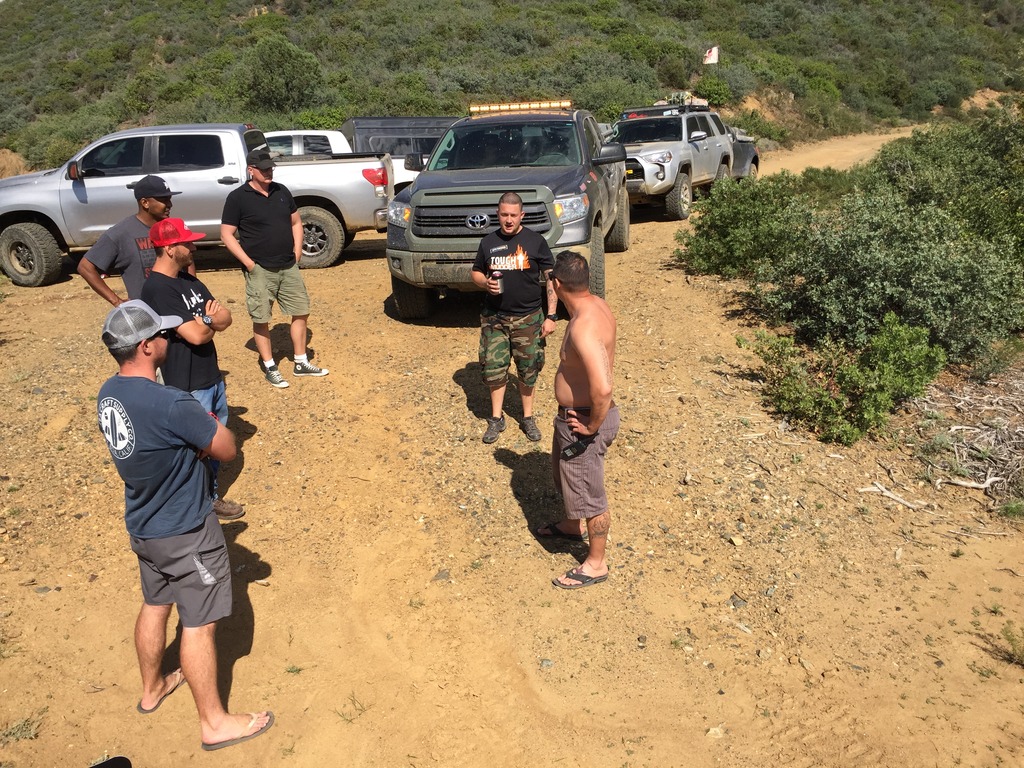 Meeting of the Minds - no one qualified to meet
We left the Crown King Saloon and took the Senator Highway (scrabbly dirt road) up to Prescott to find a camp spot for Saturday night. There may or may not have been a territorial dispute between two vehicles along the way - two bodies cannot occupy the same space at the same time... We found a spot that was not really meant to be a campsite and jammed 4 trucks into it - the holiday brought out every Prius and minivan in existence. Luckily we persevered regardless of signage that may or may not have been visible from the road and forged ahead to get away from the crowds.

Sunday morning was cool and calm - we had breakfast and made our way to Prescott for gas and ice. Oh, Lisa and I also had to replace the contents of one cooler since we were supposed to make dinner tonight. We were originally going to cook Friday night, but it got late so we just had fast food on the road. Well, that meant everything in the cooler sunk to the bottom from our trail shenanigans and got water logged because we don't have a damn fridge yet. Fuck. Uncle Jimmy and his wife had to split for the day, so the rest of us carried on down the shelf roads toward our trail for the day.
We did Smiley Rock trail on Mingus Mountain near Jerome, and I'm not sure if anyone else has taken a fullsize truck through there, but it was tight (toight like a toigerrrr) - in some places both sides of the truck, the roof and the undercarriage were all scraping at the same time. There was only one point where we got out and spotted each other through, otherwise it was all just point and shoot from the hip! This was some of the most technical terrain of the trip. Spenny got to use most of his buttons on this one trail I think. He did make the rock garden look stupid easy in his 4Runner.
Smiley Rock Trail:
Spenny doing the arms thing... Alex thinks it's silly.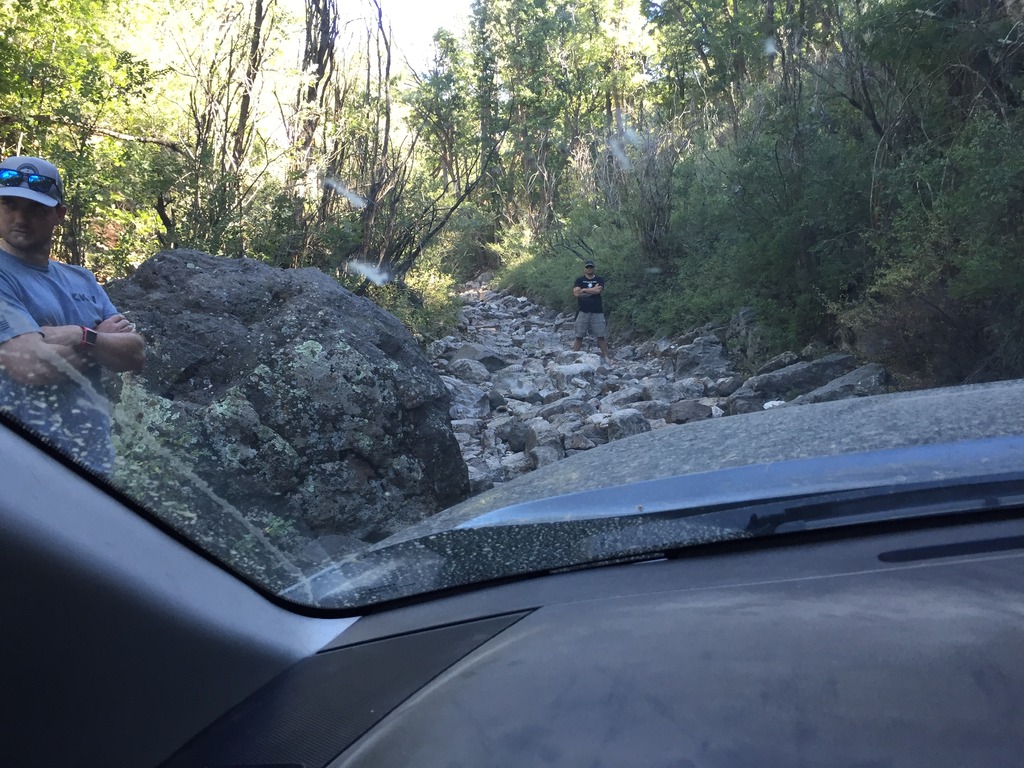 The Contemplative-Arms-Crossed I Think You Can Make It Pose
The ruling on the field stands - Touchdown!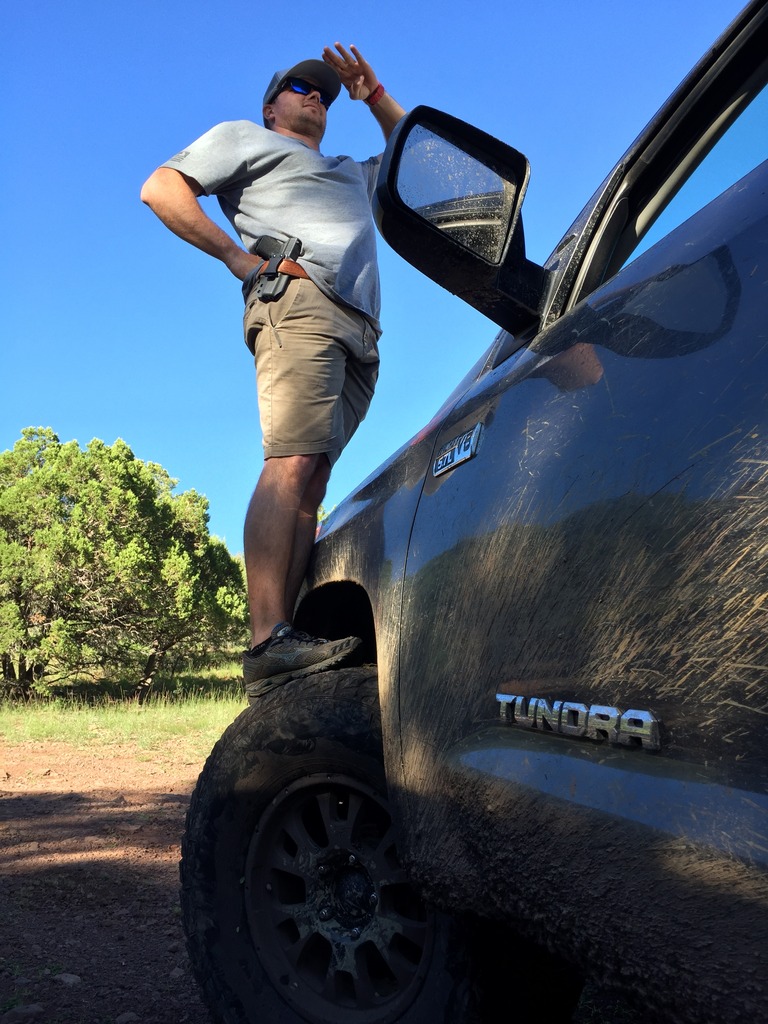 Freedom, Motherfucker, do you speak it?
After Smiley Rock we reconnected with Jimmy and his wife to find camp for Sunday night. The whole area was chock full of weekend warriors out pushing the limits of their Prius or Civic. Eventually we found a beautiful spot on the edge of the mountain, passed some mud puddles to keep the less-adventurous away, and had a great view of the valley and Prescott below - that'll do pig, that'll do. Lisa and I had dinner duty and laughed our fool heads off the whole time at our stupid luck in not having a fridge. Dinner, drinks, fire, chatter, stars and the moon - it was a great night. FYI, bacon wrapped, cheese filled hotdogs fuckin rule.
Camp on Mingus Mountain:
Monday morning Oside Punker made breakfast - I mean, he actually cooked it and everything! And it was good! Not that what he usually makes isn't good, just that what he normally makes, he doesn't really make. He brings it, starts it, loses interest, and someone else finishes making it.
*edit* Spenny reminded me that Oside got distracted by some winch debate and never actually finished cooking breakfast - Spenny and Lisa did. No idea where I was. Probably arguing with Oside.
We got on the road and followed Jimmy's lead heading down some forest roads toward Cherry. It was fun to come down in elevation kind of slowly and watch the scenery and vegetation change. We found some really nice future camp spots along the way and a couple of pretty overlooks. We came to the pavement and everyone aired up (I don't care what you say Alex, I'm getting nitrogen and it will be awesome!) and we hopped on the road for home. Realistically we could probably have gotten to Phoenix faster if we had stayed on dirt forest roads - traffic was the suck, but it was fun anyway since we had each other on comms and could shoot the shit during the drive.


Somewhere near Cherry, AZ? I dunno where we were... :